A few weeks ago I wrote about my atlas desk  and mentioned how I'd like to find a proper desk lamp for it. I love the vintage glass one on there now, but I have my sights set on a bona fide architect's light. It's a workspace, and I want it to look like one! The French-made Jielde lamp (sold locally in NYC at McNally Jackson in selected colors/styles) is a classic, and one of my all-time favorites. It was produced in the 1950s by Jean-Louis Domecq when he wanted a sturdier working light that could twist and turn without also twisting and turning its wires. Later, domestic styles and more colors (so many colors!) were added to its repertoire. The rest is history--and it has certainly withheld the test of time!
I mean, really, how gorgeous is this olive green??
After Jielde and I met, I realized the lamps were featured in many of my favorite inspiration images (and not just in workspaces):
They're everywhere! Love the floor lamps too... but focusing on desk for now. Unless of course I did a floor lamp as a desk lamp like this:
There are also several economically happy alternatives, like the Atelier line from Restoration Hardware, which comes in other finishes as well: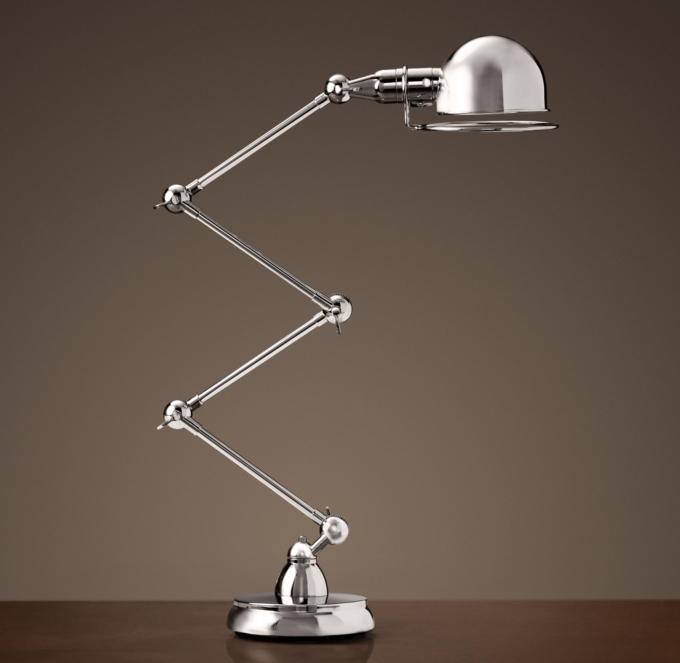 ... and these from PB Teen:
... and this one by Kenneth Cole for Bed, Bath, & Beyond (also comes in a brass finish):
There are also some listed on Craigslist (for those of you in the NYC area) in gold:
And these vintage ones:
And of course a quick eBay search might prove fruitful, too.
The alternatives are great options... I will say, though, I saw a genuine Jielde with my own two eyes (in McNally Jackson), and the imitations don't do it justice! The colors and finish are exquisite, and it's just so sturdy--a true classic. I think I'll continue to save my pennies and watch eBay like a hawk :)