I love my white bedding (as I mentioned in this post), but it's a little dingy. Okay, it's more cream than white now. Understandably so--I've had it for maybe ten years, including all of college?! Yikes. My college room:
New city, same cover:
It's worn-in in that wonderful way that only constant use and many washes can produce, and for that reason I've been putting off replacing it... but I think the time has come for a fresh cover.
I'd like to keep the bed white for a multitude of reasons: calming, crisp & clean looking, blank canvas for patterns elsewhere. I love the pattern in the coverlet here:
Isn't this setting just to die for?! I'm imagining  a duvet cover in the pattern of those front throw pillows. And the wavy white shams... adore.
Amazing pom-poms:
Quite similar to this cover from Urban Outfitters: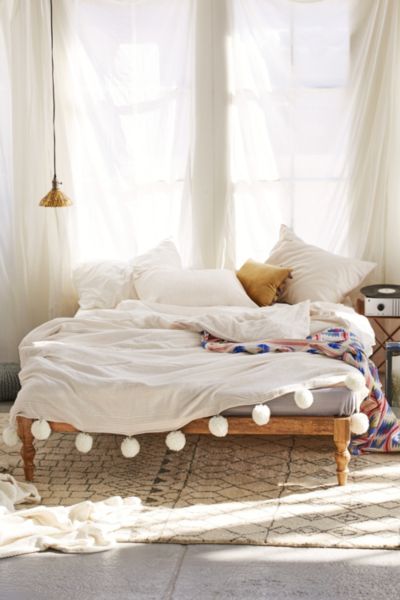 So calming.
I really love the pattern in my coverlet now and have had the hardest time finding something similar.
It's neither too geometric nor too floral, but still feminine. This cover that I have now is a matelasse, meaning that it looks like it's quilted or padded but actually isn't, and it's nice and lightweight... but I could switch to a duvet, too.
I've been mulling over a few options, like this one on eBay (free shipping and 60-day returns?! I can handle that):
Simplicity from Anthropologie:
Another very simple spread (and close up) from Anthro:
Do you have any sources for bedding?? Let me hear them in the comments below!